2:30 p.m. - July 03, 2006
GIMME SHELTER? I DONT THINK SO

AS ALL OF YOU KNOW BOTH THE WEE AND FRITZ ARE RESCUE DOGS, AS ARE TWO OF MY BIRDS, PACO AND HARLEY. KOLBY IS A RESCUE OF SORTS, HE WAS GIVEN TO ME BY A FRIEND THAT COULDNT CARE FOR HIM ANYMORE.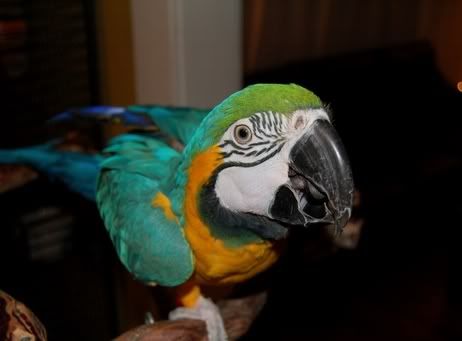 KOLBY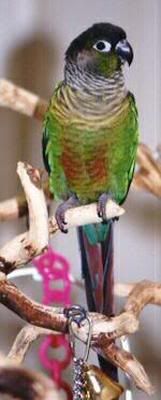 HARLEY
PACO
ALL FOUR WERE RESCUED FROM EITHER A VERY BAD ENVIRONMENT WHERE THEY MIGHT HAVE DIED A HORRIBLE DEATH (PACO AND HARLEY) OR RESCUED THROUGH AN ASSOCIATE FROM VARIOUS KENNELS OR POUNDS.
SINCE I GOT FRITZ THINGS HAVE BEEN SPLENDID AND I LOVE BOTH OF MY WEENS LIKE NOTHING I HAVE EVER LOVED BEFORE (DOG WISE).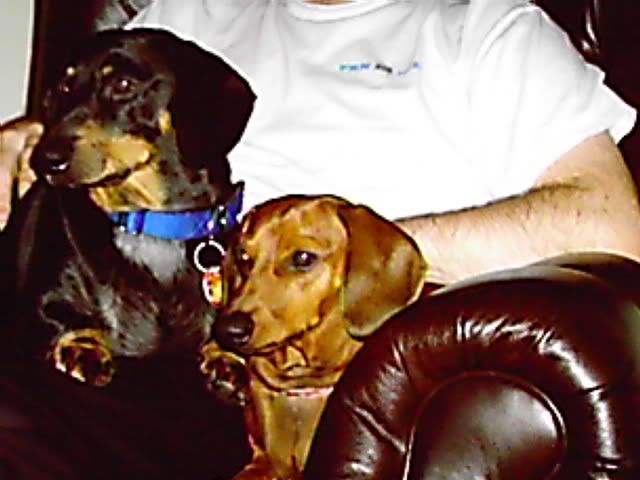 FRITZ AND ANDRE' (WEEN)
WELL I HAVE BEEN ON A FRUITLESS SEARCH FOR ANOTHER WEENUR FOR AZURA. PICKLES HAS BEEN A MISERABLE WRETCH AND HE NEEDS A BUDDY. I HAVE 501C RESCUERS OUT LOOKING AS FAR AS BROWNSVILLE TEXAS FOR THE RIGHT MATCH AND EVERY DOG WE COME ACROSS IS ADOPTED OUT BEFORE I CAN GET THEM.
NOW BELIEVE ME I AM NOT BY ANY MEANS COMPLAINING. IT HAS JUST BEEN DIFFICULT. I AM GLAD THESE DOGS ARE GETTING OUT OF THE POUNDS.
WELL SUNDAY I HAPPEN TO BE ON
PETFINDER
LOOKING AT WEENURS AND THERE WAS A NEW ONE ON THE LIST REALLY CLOSE AT THE CITY OF MOORE ANIMAL SHELTER. IT WAS A 5 YR OLD RED SHORTHAIR WEENUR THAT WAS DROPPED OFF ON FRIDAY BECAUSE ITS MASTER WAS GOING TO BE IN THE HOSPITAL AND NO ONE HAD THE "TIME" TO TAKE CARE OF HIM. HIS NAME IS BUGSY.
I IMMEDIATELY CALL THE SHELTER NOT THINKING THAT IT IS SUNDAY AND SHANNON (ANIMAL CONTROL OFFICER) ANSWERS AND TOLD ME THAT IF I WANTED TO COME AND GET HIM SHE WOULD STAY THERE AND WAIT FOR ME. I PACKED LESLIE IN THE CAR AND FLEW DOWN 35.
I ADOPTED BUGSY FOR AZURA FOR 5.00. YEP THATS IT, FIVE STINKING BUX IS ALL THIS BEAUTIFUL LITTLE DOGS LIFE WAS WORTH.
WHILE I WAS THERE SHANNON INTRODUCED ME AND LESLIE TO GYPSY
GYPSY IS A SHEPARD MIX WHO'S LIFE VALUE IS 5.00 TO THE SHELTER ALSO. SHANNON TOLD ME THAT GYPSY CAME TO THEM ON THE 9TH OF JUNE. HER OWNER HAD PASSED AWAY OF CANCER AND HIS CHILDREN DIDNT WANT TO CARE FOR HER. SHE IS ONLY 5. THE "LIFE EXPECTANCY" AT THE SHELTER IS 10 DAYS MAX BEFORE DOGS ARE PUT TO SLEEP IN MOORE. REGARDLESS OF ROOM OR HEALTH. FIRST ONE IN FIRST TO DIE AND THE ROTATION CONTINUES.
SHANNON TOLD ME THAT SHE HAD SPENT ALL OF HER FAVORS KEEPING GYPSY OFF OF DEATH ROW BECAUSE SHE WAS A GREAT DOG BUT THIS COMING FRIDAY SHE WOULD BE PUT DOWN.
NOW I KNOW WHAT YOU ARE SAYING...."COW..YOU HAVE A YARD YOU TAKE HER". AND AS MUCH AS I WOULD LOVE TOO MY HOUSE IS BUILT FOR LOW RIDERS AND WITH THE BIRDS IT WOULD BE DANGEROUS ON ALL COUNTS BRINGING IN A SHEPARD OR A LAB TYPE DOG. LESLIE WANTED HER BUT SHE LIVES IN AN APARTMENT.
WE WENT HOME WITH BUGSY, HAPPY THAT WE HAD SAVED A WONDERFUL AND HANDSOME FELLOW BUT SAD WE LEFT BEHIND A SMILE THAT ONLY A TRUE HEARTED DOG CAN GIVE.
LESLIE AND I ASKED EVERYONE WE COULD, EVEN THE PATRONS AND WAITRESS AT FLIPS IF THEY WOULD TAKE HER. I VOLUNTEERED TO PAY AND PICK HER UP AND DELIVER HER. NO HELP. I EMAILED MY LIASONS IN GAINESVILLE WHERE FRITZ HAD COME FROM AND IN DALLAS BUT THERE WASNT ANYONE THAT COULD TAKE HER.
I DIDNT SLEEP A WINK SUNDAY NIGHT.
I CAME TO WORK ON MONDAY AND THOUGHT OF MY FRIEND I WORK WITH WHO JUST BOUGHT A HOUSE IN THE COUNTRY, IS SINGLE AND HAD MENTIONED HE WANTED A DOG. UNFORTUNATELY MIKE WASNT AT WORK.
I PSYCHOTICALLY DIALED THE PHONE AND GOT MIKE AND TOLD HIM ABOUT GYPSY. SIGHT UNSEEN HE SAID HE WOULD TAKE HER SO I CALLED SHANNON AND TOLD HER TO PULL THAT GIRL OFF DEATH ROW I WAS ON MY WAY.
I WENT AND PAID THE ADOPTION FEE AND DID THE PAPER WORK AND TOLD THE OFFICER THAT A FRIEND WAS COMING TO GET HER.
4PM I GOT A CALL FROM MIKE TELLING ME HE WAS IN LOVE WITH HIS NEW GIRL. HE SAID THAT SHE WAS SO HAPPY SHE WAS LEANING ON HIS SHOULDER FROM THE BACK SEAT OF THE TRUCK SLOBBERING ALL OVER HIM. HE HAD A SMILE IN HIS VOICE THAT I CANT EXPLAIN IN WORDS.
I FELT RELIEVED AND HAPPY. I SAVED A DOG, GOT A LIFE COMPANION FOR A FRIEND AND I COULD TAKE ONE STEP TOWARDS RELAXING A LITTLE BIT MORE.
ANIMAL RESCUE ISNT A JOB I HAVE, IT IS A CHOICE I MAKE. IT IS ONE LIFE AT A TIME. AND EVERY TIME I DO IT I FEEL LIKE PART OF THE REASON I AM HERE HAS JUST BEEN REVEALED.
ANIMALS CANT SPEAK TO YOU. THEY CANT TELL YOU WHAT IS WRONG. THEY DONT UNDERSTAND THAT YOU JUST STOPPED LOVING THEM. THEY SIT IN THE COLD WET CAGES THINKING "MOM OR DAD WILL COME BACK AND GET ME...THEY LOVE ME". THEY DO WHAT YOU WANT THEM TO AND DO IT UNCONDITIONALLY. IT SADDENS ME THAT PEOPLE JUST FIND IT SO EASY TO TOSS A LIFE AWAY LIKE IT HAS NO VALUE. SURE IF AN ANIMAL IS SICK OR DANGEROUS THE CIRCUMSTANCES OF PUTTING AN ANIMAL DOWN IS DIFFERENT.
HIGH KILL SHELTERS ARE HORRIBLE PLACES. THE CONCRETE FLOORS AND THE COLDNESS ISNT A GOOD CONDITION FOR ANY LIVING CREATURE. AND I AM SURE NONE OF THESE ANIMALS HAVE DONE ANYTHING TO WARRANT BEING DUMPED EXCEPT THE PERSON THAT THOUGHT IT WOULD BE A COOL PET GOT TIRED OF THE RESPONSIBILITY.
I GUESS THIS IS MY WAY TO MAKE A PLEA TO ANYONE OUT THERE...
IF YOU ARE WANTING TO GET A PET..
DOG ..CAT..BIRD..REPTILE..WHATEVER...
PLEASE DONT GO TO BREEDERS.
SAVE A LIFE.
AND IF YOU DONT KNOW WHERE TO GO OR WHAT TO DO...
TALK TO ME
...TELL ME WHAT YOU ARE LOOKING FOR AND I WILL DO THE REST.
BEING A RESCUER IS ONE OF THE GREATEST FEELINGS ON EARTH. IF YOU HAVE A SUCCESS STORY WITH A RESCUE ANIMAL PLEASE FEEL FREE TO ELABORATE IN MY COMMENTS...
AND BLESS YOU FOREVER.